I know, I know, I already blogged today BUT I've only blogged once since I went on vacation so I'm just catching up! Besides, Hadar and Kristen are hosting a linky party that sounded like fun, so....here goes!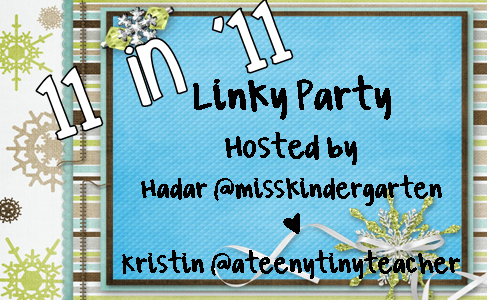 Bar none, my favorite movie was the last installment of Harry Potter! I went with a bunch of friends, and we'd all gone together to see all the other Harry Potter movies, and when this one ended, we all heaved a collective sigh and wiped our tears! Harry, we'll miss ya!
This is hard – there are a lot of good shows out there that I watch (like Top Chef and Big Bang Theory) that I like, but my real top two favorites are:
I can't WAIT until the summer for Season 5 to begin! I even bought the music from each season! Very cool music (really different!)
I'm not terribly excited about the winner of this year but I guess it could have been worse… I can't wait for everyone to finish watching their DVR so we can all CHAT about the results!
Outback- yum…yum..yum..My kids/families gave me a gift certificate to Outback for Christmas (isn't that so nice?)) so I'm looking forward to going out to dinner one night soon!
Blogging – I just love reading all your blogs and writing my own blog. I love everyone's creativity and I get more creative because of everyone else! My teaching is better because of you all and my children reap the benefits. Sometimes there's so many great ideas, that I literally have to just STOP and say, "I can't use that this year – maybe next year."
I got a Kindle last Christmas, which I LOVE! I'm thinking HARD about buying a Fire now-I keep thinking I'd like an IPad but they're expensive just for a toy…the Fire is half the price and I can play without thinking, "Boy, I paid a lot of money just for toy!" (I know, I know – those of you out there with an IPad are indignantly saying, "It's NOT a toy, it's useful!" but I have a computer so this would be an extravagance for me.)
Favorite thing you pinned
I don't pin – it's interesting to look at but I have way too much going on in my life to add one more addiction – blogging and stalking blogs take up a LOT of time! Add to that, the quilts that I make and the lesson plans, I just don't have the time or inclination. I might as well just confess it all – I don't Facebook either.
Does it have to be one of mine? If so, it would be "Do you want to laugh until you cry?"
If it's not mine, it would be Reagan Tunstall's "Dream Squashers", which is why I was laughing until I was crying.
I was asked to do a presentation at the Children's Literature Festival on the author George Ella Lyons. I'm doing it with a friend of mine – AND both of our entire classes. I'm a little nervous, since I have an Interesting Class With Lots of Personality. However, George Ella Lyons is such a wonderful writer and illustrator. (For those of you who use Houghton Mifflin Reading in First Grade, she wrote one of the big book stories, Counting on the Woods.) I'm praying expecting that my kiddos will mature over the next couple of months so that, when we present in front of 500 teachers and George Ella herself, they will do a good job (and no one will hit anyone…sigh…)
I'm so amazed that I learned how to make a blog button! (If you're wondering how to make one yourself, you can check out my blog for instructions. I hope you'll find it useful.)
Of this year? Wow…hmmm… well, I guess it would be going to Laughlin with my husband and just relaxing! We went a couple of times this year, and it was just lots of fun. I even won a little (and I mean a little) money at the casinos, which was a first!
OH! AND…My niece is pregnant and having a baby girl in February, and I'm just so excited! I've already made her a quilt for the baby, which I gave her at Christmas. I have been known to troll the baby aisles at Target looking for cutie-pie outfits for the baby.
I want to continue to eat healthy and stay at my goal weight – my hubby and I lost a bunch of weight over this last year, which I'm very proud of and I like my size 4 jeans!